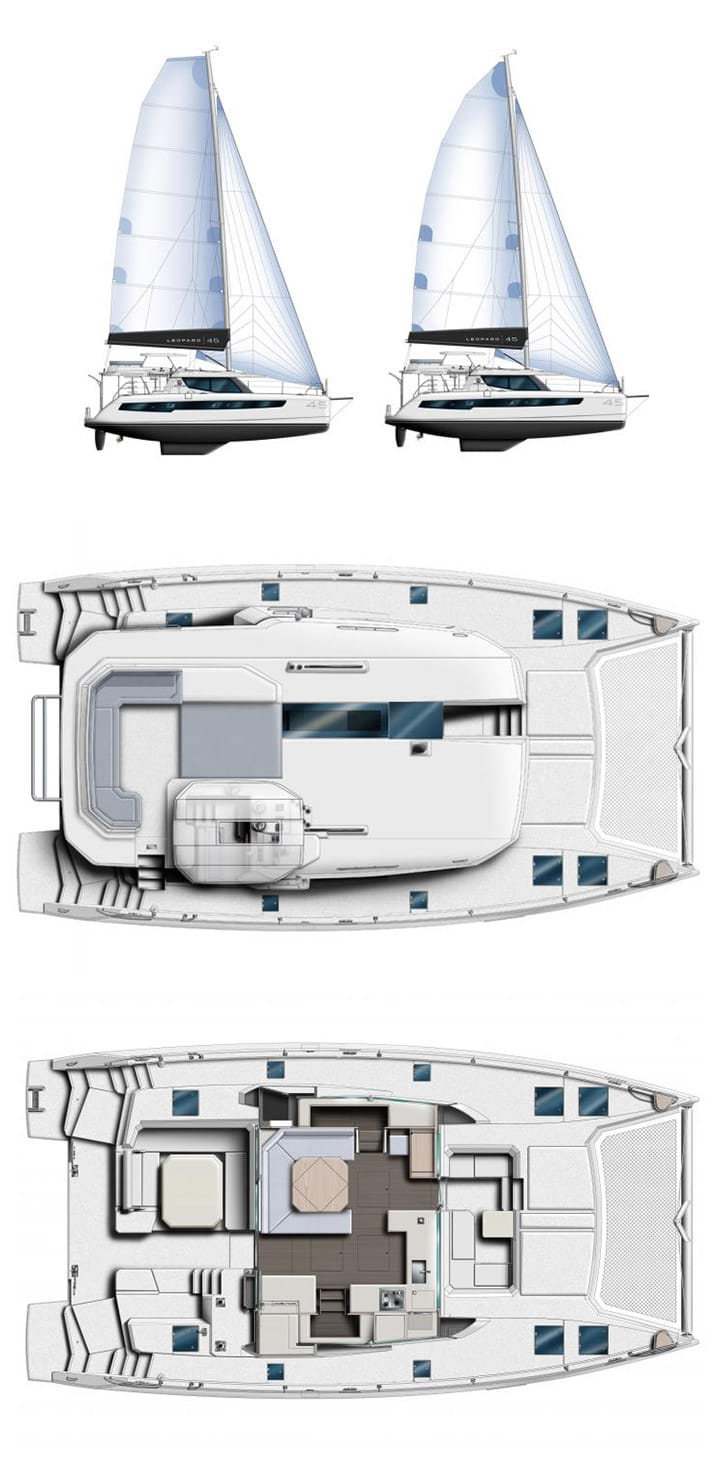 DIMENSIONS
LOA: 45 ft 0 in / 13.72 m
LWL: 42 ft 11 in / 13.07 m
Beam: 24 ft 2 in / 7.36 m
Draft: 4 ft 11 in / 1.5 m
Mast Height: 70 ft 0 in / 21.34 m
Bridgedeck Clearance: 2 ft 9 in / 0.83 m

ENGINE
Engine: 2 x Yanmar Diesel 45HP each
Propeller Dimensions: 3‐blade 17in x 14in / 432 x 356 mm
Engine No. Cylinders: 4
Fuel: 185 gal / 700 L

EXTRA DETAILS
Bunk Dimensions: View Leopard Range Bunk Dimensions
Headroom: View Leopard Range Headroom Dimensions
Water: 206 gal / 780 L
Mainsail Area (Standard): 797 sqft / 74 sqm
Mainsail Area (Square Top): 817 sqft / 75.9 sqm
Genoa Area: 501 sqft / 46.5 sqm
Spinnaker Area: 1507 sqft / 140 sqm
Code 0 Area: 753 sqft / 70 sqm
Code D Area: 1152 sqft / 107 sqm
Total Upwind Area (Standard): 1298 sqft / 120.5 sqm
Polars: View Leopard 45 Performance Documents
Displacement: 32849 lbs / 14900 kg
Load Carrying Capacity: 10141 lbs / 4600 kg
Holding Tank Capacity: 45 gal / 170 L
LEOPARD 45 NOW WITH A LOUNGE!

Awarded Boat of the Year honors in 2017 and founded upon the ethos of continuous innovation and feedback from cruising clients, the Leopard 45 sailing catamaran represents astute value, elegant lines and satisfies blue water passion.

With naval architecture by Simonis & Voogd Yacht Design, and with exterior and interior design by the world-class design team at Robertson and Caine, the Leopard 45 Sailing Catamaran not only builds on the best features of the current Leopard range, but most notably offers new exterior styling and enhanced interior accommodation.

Since the launch of the Leopard 45 in 2017, the exterior styling has evolved and we are excited to announce that we are now offering the innovative hardtop lounge on the Leopard 45.

This lounge feature first launched on the award-winning Leopard 50 and like her big sister, the lounge on the Leopard 45 includes a seating area, a sunbed, and a table. Access to the lounge is provided by floating stairs leading up from the aft cockpit, without disrupting the helm station. The helm station remains well protected, and integrated into the cockpit and the rest of the boat.

Available in a 3 or 4 cabin layout, the Leopard 45 offers the perfect entertainment package with increased aft area with new layout, ergonomically designed open plan saloon and galley, larger forward cockpit, and more onboard area.
She's sleek and nimble, yet comfortable. She incorporates a heritage of Leopards spanning twenty five years of production expertise.

In summary, the Leopard 45 Sailing Catamaran delivers uncompromised, exceptional build quality throughout, new, sleek styling, a sensible and practical layout, sailing comfort across all sea states, and features innovative technologies and multiple entertainment areas.